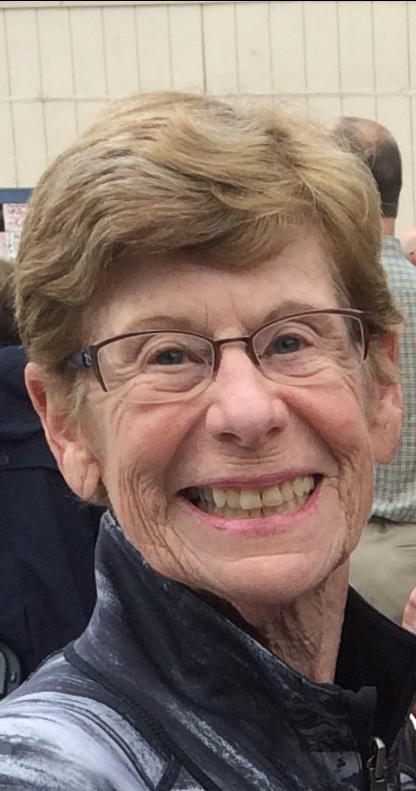 When asked how tall she was, my mother always said she was 5 feet and a 1/4 inch. I'm pretty sure she was more like 4 feet something, but that was her story and she was sticking with it. Although she was small, she was mighty.

When reflecting on the woman who raised me, I have come to understand how much I was shaped by her. Like it or not, we are very much the product of our parents. And today I truly appreciate how much of this petite, passionate, outspoken, woman is part of me.

Some of my youngest memories involve my mother fiercely protecting and caring for me. During one of my many childhood asthma attacks, she once directed her mama-bear fierceness at the emergency room staff for helping a drug overdose victim. Even in my breathless state, I somehow understood that my mother was a woman not to be messed with if you got in the way of the wellbeing of her child.

In the years that followed, my mother was always my greatest protector and champion. When introducing me to people, she would always proudly pronounce "this is my daughter. She is a lawyer." She once told me that she wished she had been born into my generation, as women in my generation had opportunities not available to her. While I may not have fully understood or appreciated the significance of this comment at the time, having taken for granted the opportunities open to me and other women of my generation, I always admired her for the bold choices she made in her younger years.

My mother grew up with the clear message that women did not need to go to college for any other reason than to meet a husband. This did not deter her. After graduating from high school, without the support or encouragement of her parents, she left home and enrolled in U.C. Berkeley. While she ultimately did not graduate (after meeting my father), she was always proud of her time at Cal and her courage to pursue her dreams. She went on to have her own very successful career as a bookkeeper, but I think she still had dreams of doing even more. I believe this influenced her unwavering support and encouragement of my dreams and aspirations. She made it clear that I could do anything I wanted to do, and I never doubted she would be there to back me up 100%.

My mother was a strong, loving, generous, determined woman who knew what she wanted and knew how to get it. She did not take no for an answer. You did not want to be on her bad side. She loved shopping at Lucy, Crystal Cruises, jewelry, spoiling her grandchildren, and most of all, my father, with whom she shared a life for more than 60 years. Their marriage was truly the model for a committed relationship. Even when things were challenging, and they faced some genuine trials, especially in recent years, their love and devotion for each other remained unshaken. I credit this model of commitment in large part to my own successful marriage.

My mother was also very generous when it came to her family. She loved gift giving. She was truly offended when I once suggested she may want to limit the absurdly excessive number of Hanukkah gifts for the grandchildren. Nina still remembers with a smile the time grandma told her she could pick out as many books as she wanted at her favorite children's book store. My mother was also the only person I know that spent serious time picking out the perfect greeting card.

My mother truly loved her grandchildren. They were a source of joy and pride for her. They could make her light up like no one else, especially in the last months of her life.

My mother could be irreverent. She had no filter. She had the gift for exaggeration. She called it as she saw it. But she also was my mama bear and I will miss her deeply.
I was searching for song lyrics that would capture my mom's spirit and found it with "A Place in The Sun" from the great poet Stevie Wonder.

Like a long lonely stream
I keep runnin' towards a dream
Movin' on, movin' on
Like a branch on a tree
I keep reachin' to be free
Movin' on, movin' on
'Cause there's a place in the sun
Where there's hope for ev'ry one
Where my poor restless heart's gotta run
There's a place in the sun
And before my life is done
Got to find me a place in the sun

My mom loved the sun. Anyone who knew her would tell you that. She liked bright colors, laughter, flowers, exotic places and the bright sun. There's no question that my Mom's favorite season was summer. My mom was in her happy place on a cruise ship in the Mediterranean or if that was not possible, then sitting by the pool. Maybe because she grew up in foggy San Francisco, she always loved the sun and brightness of life. When my parents finally moved out of San Francisco it was to be in a brighter place, my mom wanted (and got) a house with lots of windows and lots of light. Looking at pictures of her throughout the many stages of her life, she was always wearing bright and happy colors. No black in her wardrobe! Whenever we had family or friends together she was the sunshine in the room, telling stories of her traveling adventures. Even near the end of her life when she was at Silverado, she loved to sit outside in the sun.

Everyone loved my mom's bright personality, her smile and laugh. Of course she had many hardships and disappointments in her life like we all do but she was always optimistic and upbeat and looked for the best in people. I never really thought about it until now, but I don't think I ever heard my mom make a cynical or sarcastic comment (though she heard me make many I'm sure). She was also supportive of everyone's dreams, mine, my Dads, Debbie's, as well as those of the Grandchildren. She encouraged my dad to take a chance and start his own tax business; it changed his life, thanks to her support. She was very supportive of me, emotionally and financially, when I went to Culinary School to seek out a new career. She also embraced Naomi's dream to be an actress.

She remade herself as well. Even though she never had any formal training, she taught herself to be a bookkeeper. She became a bookkeeper at an Egg distribution company. You couldn't pick a better place to have a rebirth than an egg company. Her bookkeeping skills would come in handy later in life when her and my Dad started their own business together "Gottfried Associates!" She had found a way for my dad to have his dream and for her to be part of it.

My parents had their "Golden Years" as they got older with lots of traveling to sunny places around the globe. When my mom found out she was diabetic, she decided to change her whole lifestyle. She started eating healthy and started walking a lot. My parents enjoyed daily walks to downtown San Carlos to hang out with their new group of friends at a coffee house. My dad wasn't crazy about long walks but somehow my mom convinced him to do it every day. She was the love of my dad's life, his daily dose of sunshine. He would walk the earth (or San Carlos) for her. Although the cruelness of Alzheimer's slowly started to dim the sun in her a life, there remained a spark to the very end. An infectious smile and bright eyes that showed you the love she had for you.

Got to find me
a place in the sun
Like an old dusty road
I get weary from the load
Movin' on, movin' on
Like this tired troubled earth
I've been rollin' since my birth
Movin' on, movin' on
'Cause there's a place in the sun
Where there's hope for ev'ry one