Grecco Memorial Page
Joe (2 May 1927 - 10 March 2005) and Emaline (27 August 1934 - 24 December 1988).
---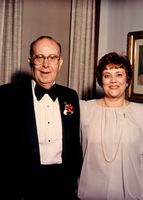 The Greccos and Hellers were good friends in Poughkeepsie. Mrs. Grecco, for many years, ran the JCC swim team, where all the Heller kids put in some time. She established a dance and swimming equipment store "On Your Toes" in the Poughkeepsie Plaza Mall, which eventually expanded to a Haloween store. Christmas dinner at the Grecco's was an all day affair, longer than a seder, and no plagues! Bakala, pasta, meatballs, turkey... .

---
Joseph A. Grecco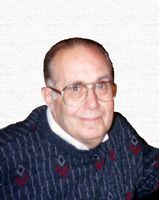 Joseph A. Grecco, 77, a longtime Poughkeepsie resident, died Tuesday, March 8, 2005 at Fair Oaks Hospital in Fairfax VA. Mr. Grecco had been a resident of Virginia since 2003, when he relocated there to be near his children. Born in New York City on May 2, 1927, he was the son of Albert and Dora. Joe graduated from Benjamin Franklin High School in East Harlem in 1943 and started his undergraduate work at the Pratt Institute in Manhattan. He was inducted into the US Army in July of 1945 and served with the 13th Chemical Maintenance Co. in Germany as part of the occupation forces following WW-II. Upon his honorable discharge, he returned to Pratt and graduated in 1948 with a BS in Electrical Engineering. His entire professional career was with IBM, predominantly in Poughkeepsie, although he worked on various projects in White Plains, East Fishkill, and San Jose. His last major project was on the design team for the IBM 3031, 3032 and 3033 Mainframes. On October 10, 1959 he married Emaline at St. Rita's Church in Long Island City. Mrs. Grecco predeceased him in 1988. Following her death and his retirement from IBM, Mr. Grecco was the owner and proprietor of 'On Your Toes' in the Poughkeepsie Plaza Mall. He is survived by his children, Albert, Doretta, and Teresa, all of Virginia; his sisters, Rose and Gloria of Florida; and his grandchildren, Elizabeth, Mark, Joseph, Mary Lacy, Arleigh, Robert, and Amelia. Joseph was active in his community and volunteered his time with the Jewish Community Center, Boy Scouts of America, and Pop Warner Football. He was a member of the Omega Iota Pi Fraternity.

---
Eulogy by Joe's Son, Al
When considering what to say this evening, I was left with more questions than answers. How do you organize tangled thoughts and emotions that cannot be organized? How do you understand and celebrate a life that has spanned 77 years when you where only privileged to witness the last 44? How do you convey the profound impact of one man on your life when those impacts are only apparent in retrospect? How do you try to divine your father's point of view of what he considered to be most important about his life, when you can no longer ask him the question? When faced with these questions, I decided that a series of short vignettes and reflections would be a way to illustrate the answers.
My dad was truly a product of the Depression era and had a work ethic instilled by an immigrant background. He was raised in a tough Italian neighborhood in East Harlem during the 30's, the youngest of three children and the only son. His father was an Italian-Catholic and a painter by trade and his mother was a German-Jew who worked as a seamstress. Growing up, we often heard stories of how my grandfather gave up his winter coat so that my father could have a bicycle, and the struggles to get off "Home Relief" as Welfare was known during the Depression. We heard the stories of going to the kosher butcher to buy a live turkey for Thanksgiving and the melee that ensued when it was slaughtered and the headless bird ran loose in the apartment. Although my dad was raised as a Roman-Catholic, he faced anti-Semitic bigotry and learned to defend himself at an early age. He taught us to never fight fair when confronted by irrational hate.
My father was 14 when the United States entered World War II. As a painter, my grandfather's services where called upon to paint the "blackout lights" of New York City so that our ships would not be silhouetted against the city lights as easy prey for German submarines. We also heard of the hardships faced by a 14 year-old boy when the scaffold his father was standing on gave way and he fell to his death. Years later I found the canceled checks that my father had sent home over the years to support his mother. Hardship, practicality, frugality, impatience with absurdity, and selfless devotion to family - this was the foundry that forged the man we knew and the basis of the values that he taught to his children from an early age.
When he helped us with our homework growing up, we were amazed at how he could manipulate numbers, and how he could still ace every regents exam, and to learn that he actually "skipped" grades and graduated from high school at the age of 16. At the time we didn't understand the significance of his being the first from his family to go to college. We also didn't know you could work your way through college playing pool and gin rummy for a penny-a-point! - a skill he imparted to us by beating us in cards time and time again.
We heard dad's stories of his time in the Army and each of us, in our own way, came to embrace and follow his love of service and country at a time in our country when it was not the popular thing to do.
We watched our father help usher in the digital age. We heard him reminisce about the purity of programming in machine language when you only had 16K of core memory, and gripe about how inefficient programmers are today. We heard stories of his early days in Poughkeepsie as a young field service engineer and how he received a ticket for not hanging a lantern from the back of his parked car at night. We saw him work on cutting edge technology in the mainframe industry, yet had a laugh at his expense watching him struggle with a PC. I remember my dad wearing the IBM "uniform" to work everyday. When I was asked for help by fellow officers at the Naval Postgraduate School who were trying to run a project on the IBM 3033, I told them the trick was to sit at the terminal wearing a white shirt, a skinny black tie, a pocket protector, and a brimmed hat!
He lived his life through his children's adventures in scouting, swimming, football, cheerleading and other sports, and he volunteered in many capacities. The vision of him standing at the end of pool deck timing at a championship meet instead of staying home and watching the Super Bowl is still fresh in my mind.
As we grew to adolescence, we became arrogant in our youth and had to learn for ourselves what Mark Twain meant when he said, "When I was a boy of 14, my father was so ignorant I could hardly stand to have the old man around. But when I got to be 21, I was astonished at how much the old man had learned in seven years."
As adults, he grew to be a mentor and friend. He was there when I took the oath as a Midshipmen and when I was commissioned an Ensign. He stood beside me as Best Man when I was married. He was there when his grandchildren were baptized. He went to sea with me and stood beside me as I conned my ship through a hurricane, and he was there when I put on my Captain's Eagles
After retirement, the time to enjoy the empty nest years with my mother was short. After her death, we saw a different man emerge; a quieter, more pensive man who was determined to ensure that the family carried on. Little slips of paper proliferated with names, phone numbers, and dates, as he tackled the tasks my mother had always shouldered. We knew to expect a call every Sunday morning and he never missed a birthday or anniversary card.
In recent years, my father could have been safe and stayed in Poughkeepsie, in familiar surroundings, with the close friends and colleagues he had made over the years. But although a ship in a harbor is safe, that's not what a ship is built for. So at the age of 75 he decided to sell his home of 38 years and move to Northern Virginia to be close to his children and grandchildren. Upon reflection, I believe I can now answer the question of what my father believed was most important about his life. The answer is family: children and grandchildren; and we were privileged to be by his bedside at the end.
There is a Danish saying that goes, "Life is not simply holding a good hand. Life is playing a poor hand well." My dad can lay down his cards one last time and call "Gin" with pride.
---
Heller Web Space: Images - Notes - Travel - Memories