China & Singapore Trip: April 2009
Steve went to China and Singapore in April of 2009. Click on any image to enlarge.
---
Beijing
My hosts, Jason Tong & Kevin Song, both served me spicy food.

Haiping was a gracious tour guide at the Forbidden City.

WuMen, the entrance of the Forbidden City. The middle gate can be only passed by emperor himself. Left gate for his relatives and right gate for his employees.
At Temple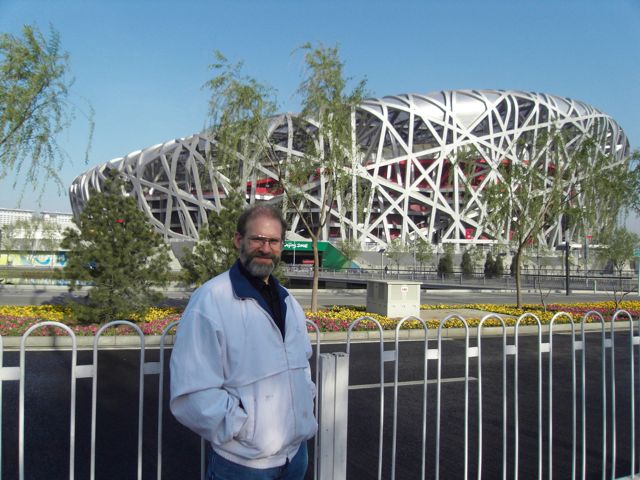 At the Bird's Nest

---
Chengdu
Jason continued to host me in Chengdu as he ran Sun's 2009 China Education & Research Conference. His boss' boss Lin was the star of the show.

Stephanie also helped organize the show.
Lin appears with two twins: Stephanie and Teresa.

I had heard about Tai Chi in the parks, but I didn't expect aerobic and waltz dancing in open areas "on the street"

Dim sum & congee with fruit for breakfast. A fellow could get used to that.
Enjoyed a chair massage at the banquet that included ear cleaning. I have souvenirs.

Andres and his team were a pleasure to meet. After dinner we went for a team foot massage.

Cindy arranged an afternoon of talks at Sichuan University. Lin, Andres, and Steve spoke.

Andres & I visited the Sichuan Giant Panda Sanctuaries in the morning when the pandas are most active.
Brown pandas

In the afternoon, Andres & I visited the Leshan Giant Buddha Park. We hiked through the park for hours climbing many steps.

Buddha bellies!!

These steps were steep and more fun to climb than to descend.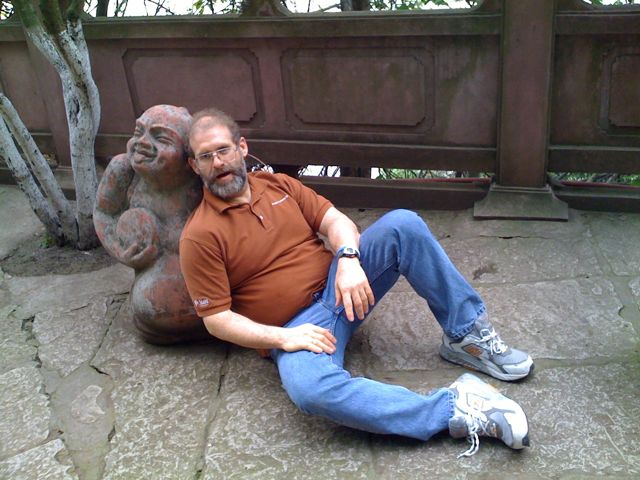 Buddha Lounge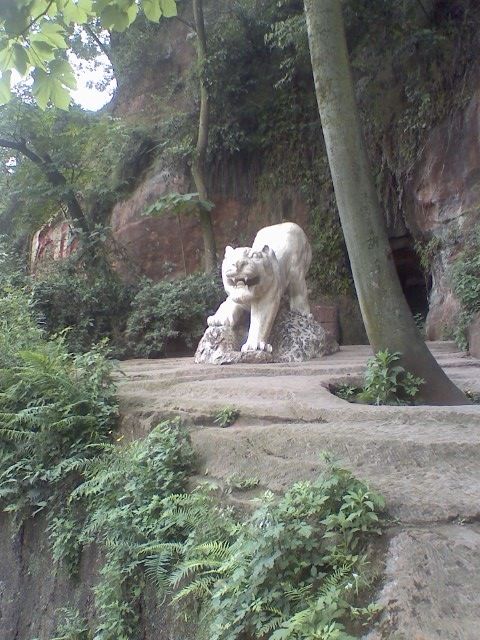 ---
Singapore
Simon & Chang Huong hosted the Singapore section of my trip.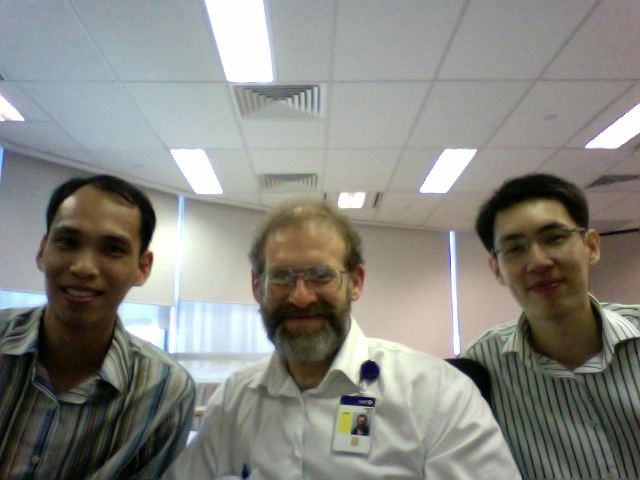 Che-Wing & Verdi took me to lunch in Singapore ... food very good, ah. Quite cheap, loh. Indian restaurant: Nasi cemak (coconut flavored fried rice) with mutton, ikan bilis (dried anchovies), veggies (spinach & cucumbers), and an egg. The most fascinating part: my two hosts ate with fork and spoon, with the spoon doubling as a knife. The also recommended mee soto and satay for later.

Simon drives a '65 MG.

Kopi & kopi-O (coffee with condensed milk, and coffee black) was amazing. The coffee is roasted locally with butter.
Hong dao sah (red bean paste soup) was sweet and creamy.

We had a final banquet at the 62nd floor Tower Club, where I met Prof. Putchong Uthayopas from Chulalongkorn University in Bangkok

---
Heller Web Space: Images - Notes - Travel - Memories