Eastern Europe Trip: 21 June to 21 July 2005
Nagymama had always wanted to see the Black Sea, and Nagypapa always wants to make her happy.
Our trip started with four days in Transylvania followed by the Black Sea and seven days sailing on the Danube to Hungary. Interestingly, the history is told differently in Hungarian books and in Romanian books.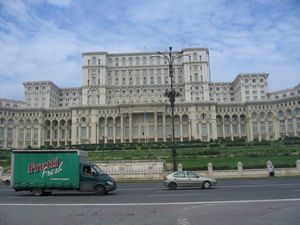 Palace of Parliament
This building is located in Bucharest, the capital of Romania. It was first conceived at the height of Nicolae Ceausescu's communist fervor in 1989. Only Romanian materials and products were used. It reflects the work of the country's best architects and artisans. It is the second largest building after the Pentagon.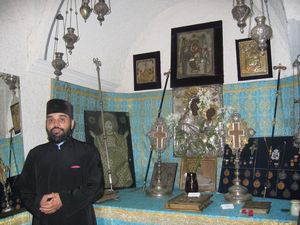 Monastery
The 17th century Caldarusani Monastery is one of the many monasteries we visited. We had lunch served by three of the monks. Services for special holidays are held here. The village people help to maintain the monastery.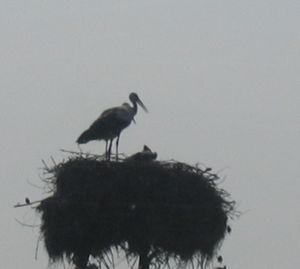 Stork
On our way to Sinaia, we drove by large sunflower field from which oil is produced. The stork was on the roof top of one of the cottages.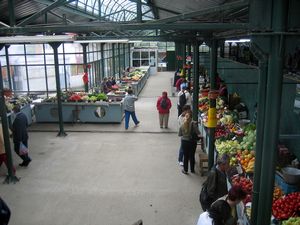 Market in Sinaia
Local markets are always fun. We try to get to as many we can. For pennies we bought tomatoes, peppers and cherries. The big market in Budapest is one of our favorite stops.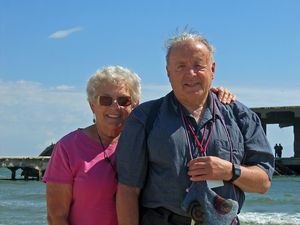 Black Sea
A train ride from Bucharest to Constanta took us to the Black Sea. We then went to Mamaia, a seaside resort on the Black Sea.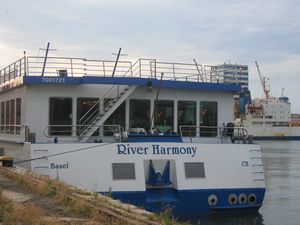 River Harmony
We traveled from Bucharest to Budapest on the ship River Harmony. That was our home for seven days as we traveled along the Danube.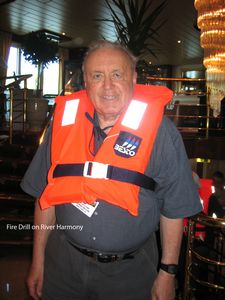 Fire Drill
The first day on the River Harmony, we had a fire drill.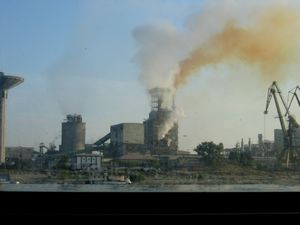 Pollution
As we drifted along the Danube, we saw quite a lot of factories. The Romanians are working very hard on trying to eliminate pollution, as this is one of the criteria for joining the European Union.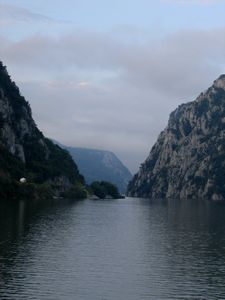 The Iron Gate
One of the spectacular views along the Danube is the Iron Gate. This is where the Danube narrows, and kovar (I believe) is at its deepest. We had to go through a series of locks to get through this narrow impressive passage.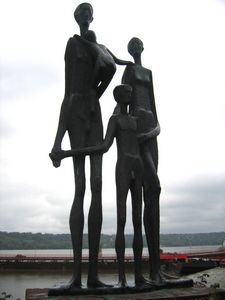 Holocaust Memorial
We discovered this memorial quite by chance along the Danube in a small town in either Serbia or Croatia. I believe the town was Novi Sad. The Jews of the town were rounded up and thrown into the frozen waters of the Danube. Along the Danube on the Pest side in Hungary, there is a series of shoe sculptures commemorating a similar event that happened in 1944.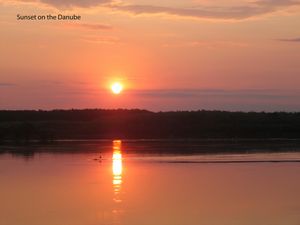 Sunset
As we were having our fantastic dinner on the Harmony, I caught this picture of the sun setting over the Danube.

Synagogue
We were visiting a town, I believe in Romania (we had local currency to buy an ice cream) to see the Black Church, and lo and behold I noticed a synagogue. Our guide knew nothing about it.
Aurora writes from cyberspace: The synagogue from your picture is a well known one, situated in the city of Brasov, Romania. Was built in 1899 and designed by architect Leopold Baumhorn. The building was inaugurated on 20 August 1901 and is still used by the local community. Is included also a ritual restaurant, medical office and an social assistance service. The wife of Ariel Sharon is also originated from Brasov and was part of the community.

Visiting Nagypapa's father's grave
When we visited the cemetery, the old sites were badly overgrown, and it was difficult to locate the grave. András and Márti returned later, located the site of the grave, and cleared the area --- no small task. András then brought Nagypapa back to visit his father's grave.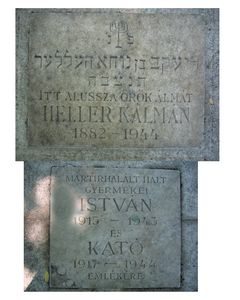 Nagypapa's father's grave
Nagypapa's father Kálmán died in 1944 during the Nazi occupation of Budapest. Unlike most Jews who died in the Holocaust, Kálmán had a funeral and was buried in the cemetary. Nagypapa's brother István and sister Kató, martyrs of the Holocaust, had no graves, so Nagypapa's mother arranged for a memorial marker to be inset in Kálmán's tombstone. This image is a composite of the text of the memorial inscriptions, Kálmán's on the top, and István's and Kató's on the bottom.
Kálmán's memorial inscription, itt alussza örök álmát is beautifully poetic in Hungarian, but doesn't translate naturally into English. Literally it means, "Here, sleeping his eternal dream," but it may be better understood as, "This is the eternal resting place of Kalman Heller." Steve's and Neil's middle names were given in Kálmán's memory.
István's and Kató's memorial inscription, mártírhalált halt gyermekei above and emlékére below mean "His children who died a martyr's death" and "in their memory." In the middle are their names and birth and death dates, 1915-1943 for István and 1917-1944 for Kató. Steve was named in István's memory, and Karen was named in Kató's memory.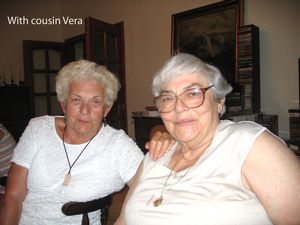 Cousin Vera
Vera is my first cousin, the daughter of my Father's oldest brother Poldi (Leopold). Born in 1929, she married Jenő, and Péter is their son. Vera and her sister Magda (Márti 's mother) survived the Holocaust with false papers.

Healing Waters in Lilafüred
Jutka and András took Nagymama to the healing baths.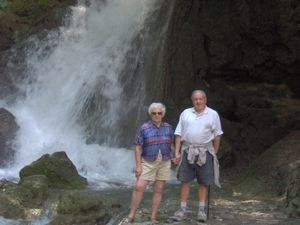 Falls in Lilafüred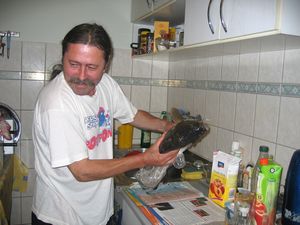 Péter és a Ponty
It took quite a lot of effort on Péter's part to subdue the carp. Péter won the battle.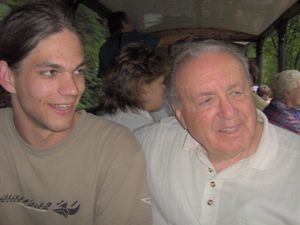 Ádám és Nagypapa
It took very little effort for Ádám to talk to Nagypapa. Both were winners.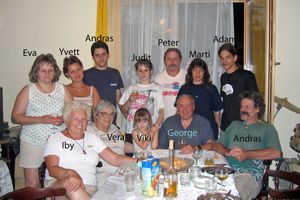 Farewell Dinner
Our last day in Budapest July 21, Péter and his wife Éva prepared a great farewell dinner. The photo shows all who were present. Péter made halászlé, a gourmet fish soup, with a combination of three different types of fish. Éva prepared cottage cheese dumplings. Nagyon fínom! We toasted the event with Tokai wine.

---
Heller Web Space: Images - Notes - Travel - Memories