Nagymama's Hiking Outings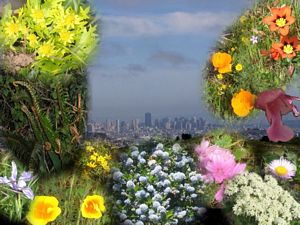 20 April 2006: A San Bruno Mountain collage
Post Hike Photo Processing Story: After a great hike on San Bruno Mountain, I worked on my new photos. Then, lo and behold, as I got up from the computer, the stand on which we keep our printer jumped out and hit the fifth digit on my left foot. Dad says this was a digital accident. My baby toe on the left side stuck out at an about a ninety degree angle. I pushed it back to where I thought it should be, and, having consulted Debbie in Acton, taped it and put ice on it. The next morning after numerous X-rays, it was decided that indeed there was a fracture, even though I was able to move the toe. I was given the same advice that Debbie gave me.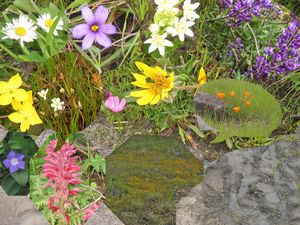 April 2006: An Edgewood Park collage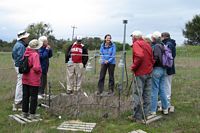 8 April 2006: Jasper Ridge
Here is a picture from our outing at Jasper Ridge on Saturday. A docent took nine of us, my hilking friends, around the Biological Preserve at Stanford where we met Claire Lunch, one of the students involved in one of the projects. We also had a short walk looking for wild flowers, but the rain took over. More on the project here.

---
Heller Web Space: Images - Notes - Travel - Memories