Paul des Jardins Memorial Page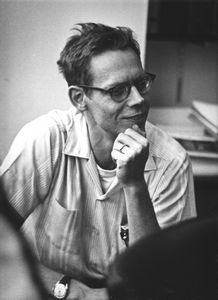 Eulogy by George G. Heller
Long Beach, California, February 25, 2007
I met Paul des Jardins twenty years ago, when his son Steve married our daughter Karen. And yet, for the past 50 years we moved in the same computer circles, followed the same paths in talking about the future of computers, and how they would change our world. And thanks, in no small part to Paul's courage and perseverance, computers have changed our lives for the better.
Paul had the courage to dream, to try new approaches, to champion new ideas, to pursue new paths. He had unprecedented skills in computer programming, in getting programs and systems work, and improve, and succeed.
When we finally met, I realized what a giant he was in our profession. He played an important role in SHARE, the organization of large IBM computer users. I worked for IBM. And twenty years ago, we became one family.
I also admired Paul for the love he had for his wife Lois, and for his family. He was kind, thoughtful and generous. And he cared greatly about his community. He actively participated in his community's affairs and did much to make it a better place.
Paul was the kind of person who transformed the world around him, for the better. He may no longer be with us in person, but we feel his presence every day as we live in a world that he helped change and improve. To me, Paul's life was rich in promises, that he helped come true, visions he fulfilled, lives he enriched.
And our lives continue to be enriched by his son Steve, who is now our son, too. Steve abundantly reflects Paul's values, wisdom and insights. He is a wonderful son, a loving husband to his wife Karen, and a great father to their daughter, Erika. Thank you, Paul, for raising a son we can continue to share and love.
Paul lives on in the family he raised and the successes he shared. But most of all, I remember him as a caring, decent, loving human being, a role model I will always admire, respect and try to emulate. May his memory continue to be for a blessing for us all.

---
Heller Web Space: Images - Notes - Travel - Memories