Arvind's Sixtieth Birthday Celebration
---
On 18 May 2007, in honor of Arvind's sixtieth birthday, an all day celebration was held at MIT. There is an official website for the Dataflow to Synthesis Retrospective, and photos available online: CSAIL photos and Richard Soley's photos (large files - like Richard).

Also, there is an online version of a Memory Book that is under construction.

This page tells the story of the day, from the planning through the party, from Steve's perspective. Click on any photo for a larger version.
---
The planning of the day began in discussion between Arvind and me. Arvind threatened to withdraw my PhD if I didn't agree to organize the day. More seriously, I was delighted to facilitate such an occasion. A committee was formed of the following folks.
Andy Shaw: Program Chair
Derek Chiou: Finance
Jan-Willem Maessen: Documents
Larry Rudolph: CSAIL and EECS Relations
Sally Lee: Local Arrangements
Steve Heller: Communication
Victor Zue: Adviser (Victor joined us about a month before the event.)
Andy and Derek lived in Baker House when I was a floor tutor (graduate resident). Andy joined CSG (Arvind's group) as a UROP (undergraduate researcher) working with Richard Soley (I think). Andy and I graduated together in 1989, Andy with his BS, and I with my PhD. Andy continued in the group as a grad student, taking over my role as group event organizer. Andy put together the technical program, no small challenge. Derek also joined the group, but stayed longer than Andy. Derek raised money for the event from CSAIL, an anonymous donor, Intel, Nokia, and Sun.
Jan joined CSG and also stayed a while, and eventually he joined Sun Labs where we work on the same team. Jan assembled a tree of Arvind's students and their students. Larry is Arvind's colleague, and was quite helpful in relating to people and organizations at MIT. Larry also set up a plannning TWiki for the planning committee.
In reality, most of the work was done by Sally Lee, Arvind's most excellent assistant. She built the official web site, organized registration, managed logistics for everything, designed the graphic above, ordered mugs, arranged food, arranged a band, arranged video taping, and on and on and on ... .
I drove the overall organization, sent out communication, and planned the evening festivities.
About a month before the event, Victor had offered to help in whatever way he was able, so he attended a committee meeting. His advice was quite helpful overall, and he suggested the book of memories, an excellent addition.
As a team, we generally worked pretty well together, meeting once a week on the phone and exchanging email in between. I'm not sure we were ever all on the phone at the same time.
---
The Technical Program
Andy Shaw constructed the technical program. We looked back, reflected on current times, and looked ahead. The official program page is here.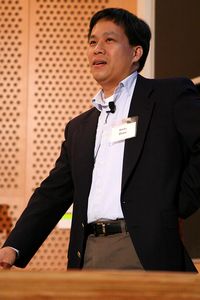 Andy Shaw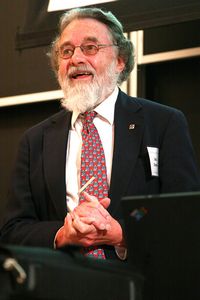 Jack Dennis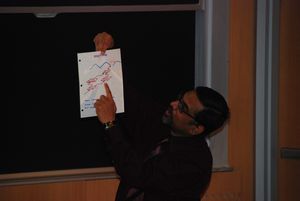 Rishiyur Nikhil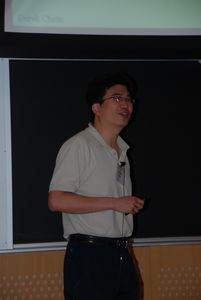 Derek Chiou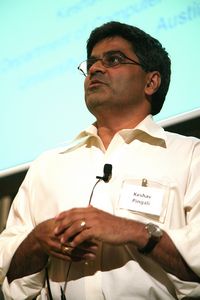 Keshav Pingali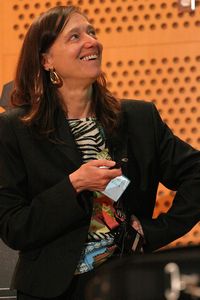 Zena Ariola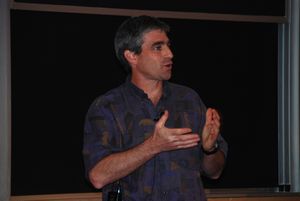 David Culler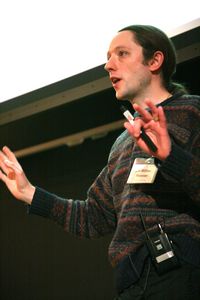 Jan-Willem Maessen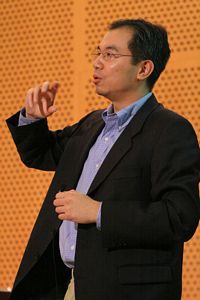 James Hoe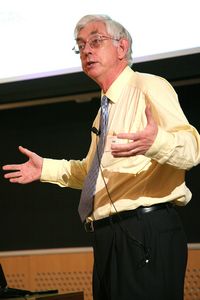 Joe Stoy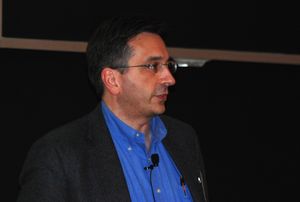 Bob Iannucci
---
The Evening Program
Toasting
| | | | | |
| --- | --- | --- | --- | --- |
| Joe Stoy | Shail Aditya Gupta | Ram Saxena | Charles Leiserson | Steve Heller |
If anyone sends me their toast, I'll post.
In my toast, I first referred to two people who would have liked to be present, and we'd have liked to have them present, but they have passed away. By mentioning their names and saying a bit about them, I included them by reference.
First was the man who introduced me to Arvind. In 1979, Dr. Harold Fleisher, an IBM Fellow, brought his group to MIT to attend the Summer Dataflow course taught by Jack and Arvind. (Ray Phoenix, a member of Dr. Fleisher's team, wrote a song about Dataflow: Dataflow Forever.) The next summer, they hired Arvind to come to Poughkeepsie to consult with the group. That was my first summer with the group as a Co-op student (6A). Arvind spoke λ-Calculus, and I could spell λ, so I was the logical intermediary between Arvind and the IBM team. Arvind and I eventually ended up working together redesigning the group's language IDL (Interactive Design Language), a language for specifying control logic that could generate PLA personalities. Arvind and I were charged with the design of a structured version of this hardware specification language for control hardware synthesis.
A second person we all miss and remember fondly is Bhaskar Guha-Roy. Bhaskar was a delightful team member that brought smiles to all our faces as he smiled along with us. Known by some as Bhaskar Bhaiya, we miss him dearly. Here is Greg Papadopoulos, Bhaskar, David Culler and me at Bhaskar and Marsala's wedding.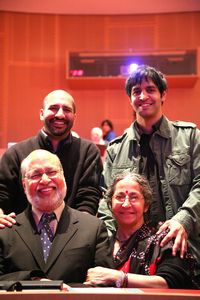 My toast continued by noticing the large family around Arvind, a group of many types of people.
Mentors like Jack Dennis, Mike Dertouzos, ...
Professional colleagues like Jack Dennis, Lennart Augustsson, ...
Friends like Jack Dennis, Ron Rivest, ...
Students like ... how did the song go? "Vinod and Bob and Greg and Rich and Ken and Steve and Dave. Arvind uses "student," but we use the term "slave."
Assistants like Natalie Tarbet and Sally Lee
And especially family like Gita and the boys
One man brings us all together. Please join me in a toast to Arvind. Cheers!

Roasting
| | |
| --- | --- |
| Victor Zue | Srini Devadas |
Victor Zue, representing CSAIL, chaired a mock exam given to Avind by several of his students. Srini Devadas, representing EECS, also sat on the exam committee. Chuck Johnson, Arvind's Patron, had hoped to sit on the committee as well, but was unable to attend. Chuck was wondering if Arvind really deserved to be supported in the future. Okay, he wasn't really wondering, but all's fair in toasting and roasting.
| | | | | |
| --- | --- | --- | --- | --- |
| Yonald Chery | Andy Shaw | Richard Soley | Alex Caro | Steve Heller |
Yonald Chery was a hard act to follow. Andy Shaw waxed philosophical on Arvind's naming strategy. Richard Soley and Alex Caro roasted Arvind to a crisp. I sang a song written for the event.
| | |
| --- | --- |
| Arvind | Gita |
Arvind defended himself, and Gita said the following.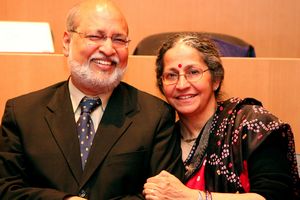 In Hindi there is a saying : "Do Haathon se taali bajti hai" which means, that it takes two hands to clap. I feel overwhelmed with the love and recognition given me for the family atmosphere that prevailed in Arvind's group. But it was a two way process... we got so much love, and Divakar and Prabhakar are who they are thanks to all the interaction and fun they experienced growing up among the talented students Arvind was lucky to have taught. They were held upside down, there was magic and balloon animals, and of course they had ready made big brothers (Bhaiya) and sisters (Didi). Hilary Cilnton wrote a book 'It takes a village to raise a family", but my sons grew up in one at MIT. Thank you for all the love and attention you have showered on our family.
There are some people I would like to recognise who are here to celebrate with Arvind: Prof Ramchandra Rao Dasari, Associate Director of the Laser Research Laboratory at MIT, and his lovely wife Suhasini. They have been the warmest of friends and advisors to our family. Prof Rao taught Freshman Physics to Arvind at IIT Kanpur in 1964! Currently Prof Rao is the director of the Physics Laser Lab and Suhasini works as an Administrator at the MIT Health Plan. Dr. Aroop Manglik, Arvind's uncle. He lives in Albuquerqe and when he heard that Arvind was turning 60, he said he was coming to celebrate! Natalie Tarbet, Arvind's secretary in the early years, and a dear friend to all of us. Natalie was a real mother figure to all the students, and was able to tick them off as well, something that I could not have done!
About 2 weeks before I was leaving for India on the 16th of April to take care of my mother, I wrote to Steve to ask if I could help in any way for the big event. He wrote'"Oh no, no, no. Don't worry if you cannot make it back in time. You only have one mother, but you could always get another husband!"

Divakar & Prabhakar
Birthday Present



Ken Traub was the gift consultant, scoring a case of fine wine.
Champagne
1996 Dom Perignon
NV Krug Grand Cuvee
Red Bordeaux
1995 Ch. Leoville Las Cases (St. Julien)
2000 Ch. Leoville Barton (St. Julien)
1996 Ch. l'Angelus (St. Emilion)
1999 Ch. La Mission Haut-Brion (Pessac-Leognan)
Red Burgundy
1996 Clos Vougeot (Raphet)
2000 Chambertin Clos de Beze (Jadot)
Red Rhone
2000 Hermitage (Chave)
2003 Cote Rotie "Chateau d'Ampuis" (Guigal)
White Burgundy
2002 Corton-Charlemagne (Louis Latour)
Sweet Bordeaux
1947 Ch. Caillou (Sauternes)
---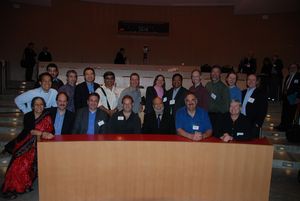 Some Arvind Students
Have come to wish the old man
A Happy Birthday

Rear: Andy Shaw, Saed Younis, David Culler, James Hoe, Keshav Pingali, ??, Zena Ariola, Shail Aditya Gupta, Chris Joerg, Paul Barth, Jan-Willem Maessen & Alex Caro; Front: Gita Mithal, Ken Traub, Bob Iannucci, Steve Heller, Arvind, Richard Soley & Mike Beckerle

The boys brought their friends
To celebrate the Old Man
They were a delight
Sometimes life is good
One must be in the moment
See Arvind's big smile
---
Rogues Gallery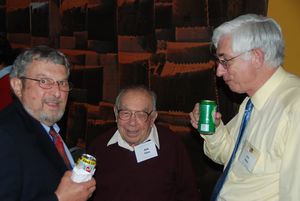 Al Vezza, Bob Fano, Joe Stoy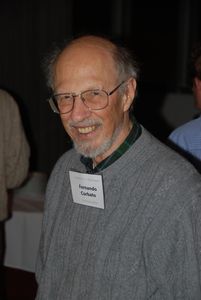 Corby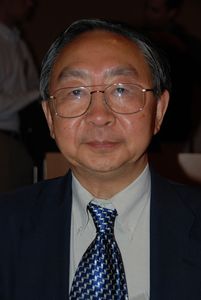 Guang Gao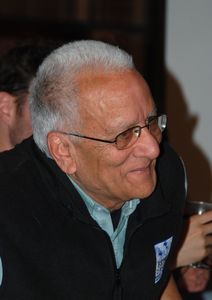 Aroop Manglik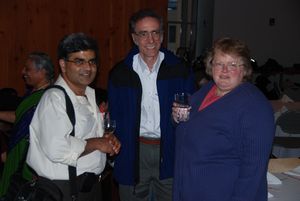 Keshav Pingali, Andy Boughton, Peggy Collins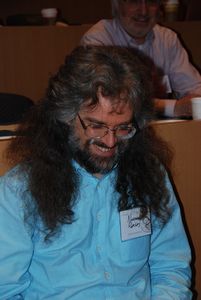 Norman Ramsey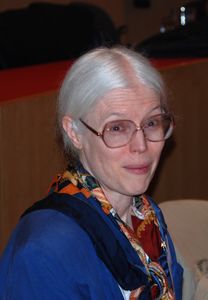 Therese Smith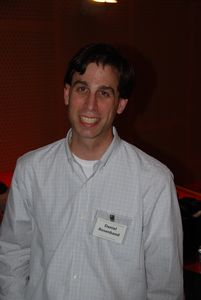 Daniel Rosenband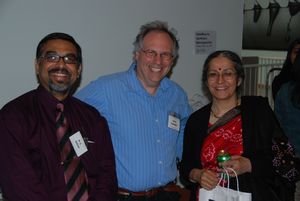 Nikhil, Larry, Gita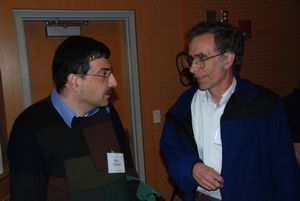 Saed, Andy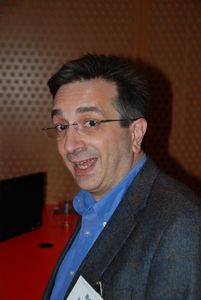 Bob Iannucci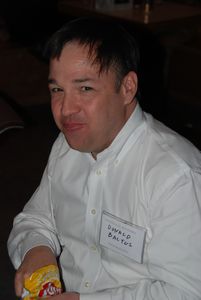 Donald Baltus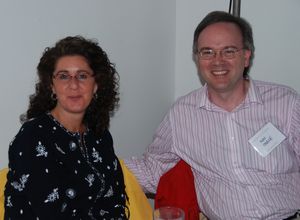 Natalie & Ken Steele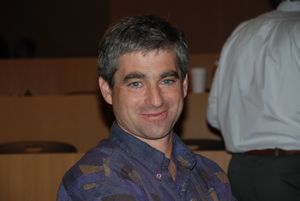 David Culler
---
Then and Now
Prabhakar hangs out
With Divakar his brother
Steve offers support
The boys have grown up
Some things don't change very much
Like geeks having fun
At Graduation
1989 was prime
time to leave the 'Tute
The boys have grown up
Some things don't change very much
Like geeks having fun
Andy Left Baker
Steve left campus completely
Well, we never leave
The boys have grown up
Some things don't change very much
Like geeks having fun
---
Heller Web Space: Images - Notes - Travel - Memories