The Top of the Wall
---
By George G. Heller
This story first appeared in Common Ties in August 2007, an online blog at the time.
1945, Mauthausen, and vicinity, near Linz, Austria, and 2007, Palo Alto, California
---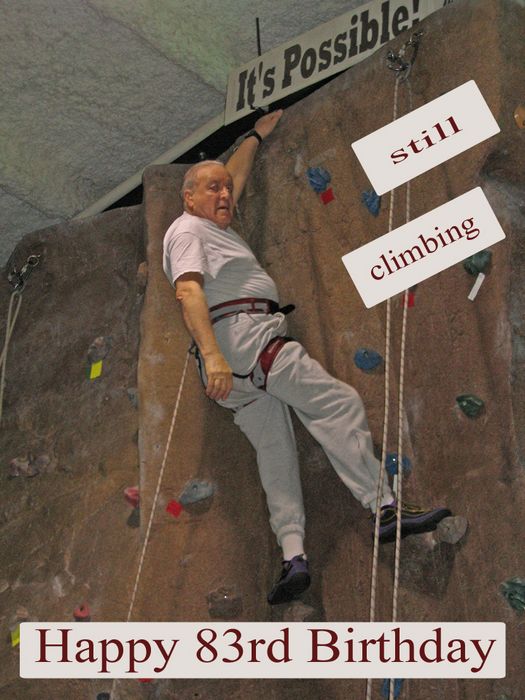 "Did you bring your new climbing harness?" the rock-climbing instructor at the Palo Alto YMCA asked me. I showed him the gift from my grandchildren for my 83rd birthday.
For several years now, my climbing has been a weekly event. When I climb, I remember what I learned in Mauthausen. On the top of the wall, there is a 4-foot banner that reads: It's Possible. I made the banner to encourage new climbers.
When I was learning how to climb, around the time of my 76th birthday, many people thought that I wouldn't make it to the top. But I learned many years ago never to give up hope. I survived the Holocaust by clinging to hope and faith. I had to believe that survival was possible. During the Holocaust, I had been a slave laborer in Hungary and in Austria. I arrived in Mauthausen during early April in 1945. Along the way, while on a death march, I picked grass in the fields when there was nothing else to eat.
When we arrived at Mauthausen, and I saw the hill I had to climb, I hesitated. Do I want to die here and now, at the bottom of the hill, or be killed when I get to the top, if I ever make it? I chose to climb. Perhaps, just perhaps, I might just make it. There was one day in April 1945 that I will never forget. It was a bright, clear day. We were standing outside in the tent camp. We all knew that the end of the war was only days or weeks away. Could we survive that long?
Four of us stood together and talked. We had known each other since we were 10 years old. We grew up together in Budapest. We had attended the same gymnasium for eight years and had been together since we were ordered into the slave labor camp in Hungary.
Zoli was my friend. We shared everything. Robert and George were the two top students in our school.
As we stood there, Robert looked depressed. "I can't take this anymore," he said. "I have given up hope. There is no possible way we can come out of this alive." He barely finished his words. He fell to the floor and died on the spot.
That day, I learned the lesson I will never forget: when we give up hope and faith, we have chosen to die.
Three of us survived and were liberated by the U.S. Army. We still had the strength to walk. Eventually, we reached the Alpenjaeger Kaserne. It was originally built for the German army. Now it was unoccupied, and the Americans took it over to provide a place for the survivors to stay, to be deloused and to be fed.
Those of us who were still alive began to realize how our lives have changed. We survived! We were alive! It was now up to us to start anew, to build, to create and to strive. We all had to believe that it was possible.
Many of the survivors were very ill. Those who could no longer continue on their own dragged themselves to the gate. Periodically, a truck would come by. It would take those waiting to a hospital. Another truck would come and pick up the bodies of those who died. They were taken to be buried in a mass grave nearby.
I last saw George several days after liberation. He was sitting at the gate. He was very sick and was trying to get to a hospital. We talked. He was still full of hope.
Shortly after liberation, Zoli started heading home. He hoped to find some of his family still alive in Budapest. I was ill. And I was convinced that nobody in my family could have possibly survived. I did not leave with him.
Not many days later, I followed George's path to the gate. I was taken to a hospital. For several days, I did not even have the strength to turn around in my bed. Both the doctors and I almost gave up on me. But then things began to change. I learned to stand up and walk. When I got to a scale, I weighed approximately 80 pounds. I was 21 years old.
Eventually, I recovered, and using my language skills, I worked for the American Army and the United Nations as an interpreter.
I came to the U.S. during the summer of 1946. Many years later, I visited the Jewish cemetery in Budapest. It had a beautiful Holocaust memorial. I found the names of Robert and George among the martyrs who perished in Mauthausen. George never made it home. He tried so hard. Robert gave up.
As I think of my friends I last saw more than 60 years ago, I sometimes wonder how I survived as so many perished. It took luck and determination. Although luck is beyond our control, determination is available to us all.
Each year, on or around my birthday, I climb the wall as a symbol of my continued determination. This year, I bring fond memories of my friends Robert and George to the top of the wall with me.
I dedicate this story to their memory.

---
A Holocaust survivor, George Heller is a retired IBM computer scientist. His contributions, in the areas of computer education and information systems development, were widely reported in the professional and popular press. The HYPERLINK "http://www.hellers.ws/" Heller family Web site includes some of his recent Holocaust stories, as well as other publications, photographs, and links to other resources.
---
Heller Web Space: Images - Notes - Travel - Memories